Istota
Meet the forces of your imagination

Workshop
21.5.2023
14:00-16:00
Age: 10-12
Language: Dutch
Our world is an unpredictable and ever-changing place. It can colour with sparkling joy and have shades of sadness. It is filled with wondrous creatures called
Istotas
– the guardians of light and the carriers of our emotions.
Istotas
maintain the balance in this Universe and help us navigate challenges. But
Istotas
are not easy to see. They appear to those who know where and how to look.
Are you ready to meet these magical creatures? Ola Lanko, an Amsterdam-based Ukrainian-born artist, invites you for a playful afternoon – a journey into the world of emotions fueled by imagination. Using images and stories from her ongoing project, she will introduce you to the world where feelings have characters and help you find your own superpowers.
The workshop is organised by
Growing Pains
in collaboration with Bureau Postjesweg. It is made possible with the support of the Amsterdam Fund for the Arts.
To register, please email
Bureau Postjesweg
or
Growing Pains.

Image © Ola Lanko, from the project
Istota
(2023), commissioned by
Growing Pains
.
Second collective session at
Enter Enter, a space for books
18.3.2022


Four months after our inaugural meeting in November, we came back to Enter Enter for a second group session.

Ola Lanko, Sophia Bulgakova, Lia Dostileva, Katia Motyleva and Kateryna Snyzhko took turns introducing their projects. As artists shared their images, they each spoke about their process, the questions they chose to address, as well as the questions they were confronted with as the work was taking shape.

We spoke about gravity and vigor, powers and sensibilities, endless stories and long lines, coded messages and mother tongues, nurture and anguish, traces and messages. We looked at books and imagined how ours could look.

It was a full day of preciously open and vulnerable conversations that left us with a glimpse of what the publication can become in just a matter of months.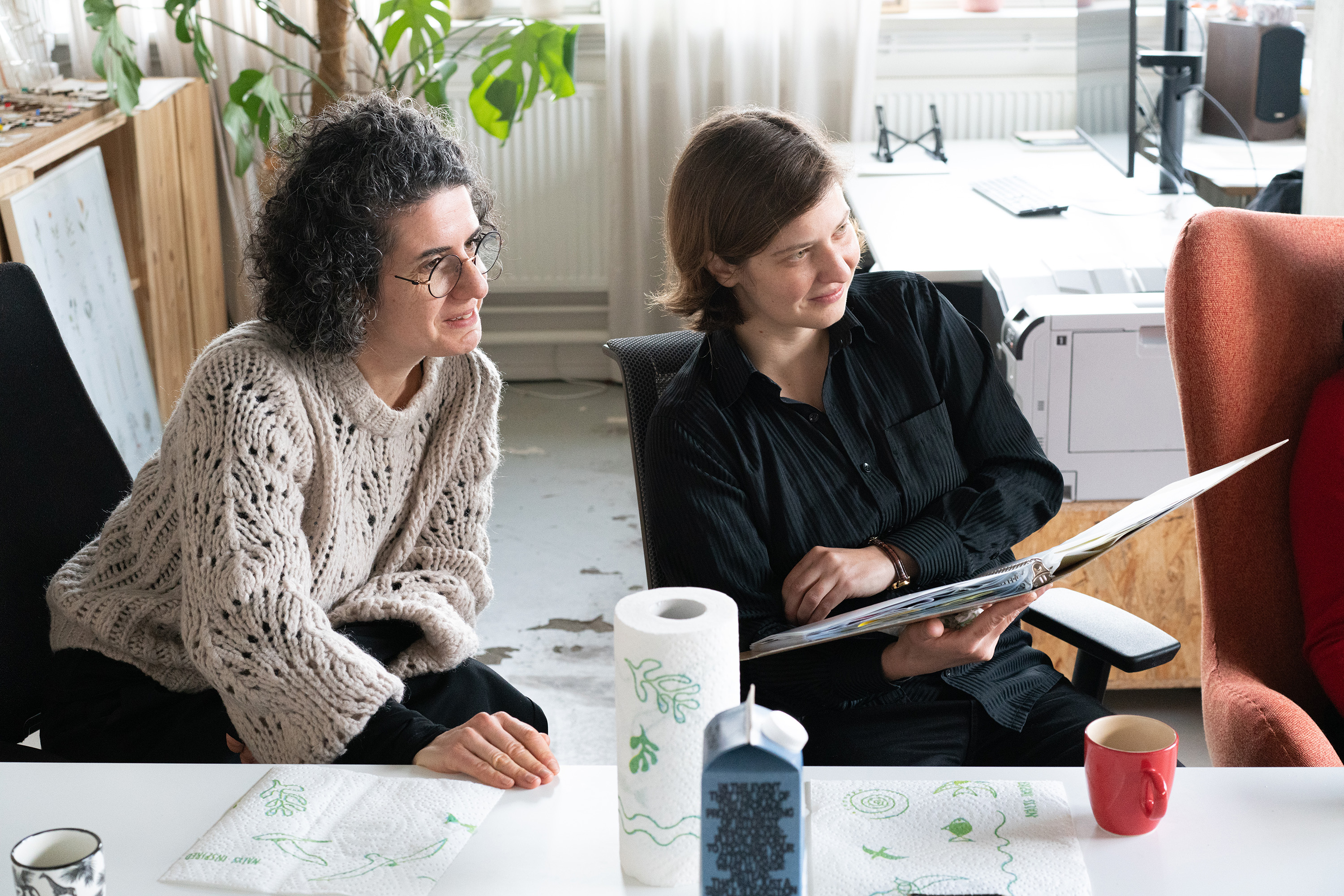 Studio visit with Kateryna Snizhko 02.03.2023
Behind the scenes… While artists work on the projects for the upcoming publication, Growing Pains arranges studio visits. We ask a few external experts to join a vulnerable and open conversation about the work-in-progress with each of the participating artists.
Kateryna Snizhko's studio is located at a beautiful shared spaces of Da Vinci Creatieve Ruimtes. We visited her together with artist and writer Andrea Knezovic and curator and researcher Frank van der Stok . We tried to "unpuzzle" puzzles Kateryna prepared for us, deconstruct her working process, and enjoyed the pancakes made by the artist.
A small snippet of a three hour conversation: "The time is perceived by kids differently than by adults, the understanding of presence is built by patterns, like puzzle patterns… When I thought about the present and how to talk about it with kids… I was thinking of this Ukrainian school with a lot of people who needed to leave their houses. Parents try to control and construct reality for their kids, and they build these superstructures on top of reality, while kids are just living through reality. So I was thinking about deconstruction on so many layers. Even if we deconstruct, we try to construct something, to link a word to our experience in the past or expectation of experience in the future. That's why I like the idea of repeatability, recurrence of events. And with these puzzles I am curious to see how far I can go with constructing something out of deconstructing."
Studio visit with Sophia Bulgakova 15.12.2022

On December 15th, Sophia Bulgakova welcomed our group and guests at her studio in the Hague. The visit was the first in the series of five feedback sessions hosted by the participating artists. Sophia who is part of Trixie – an artist-run space located in the Hague's Stationsbuurt – prepared a feast of traditional ukrainian food which fueled the conversations about her practice and ongoing projects.

An artist Mari Kolcheva and writer George King joined us for the afternoon.

© Hani Chladilová

First collective session at Enter Enter, a space for books 20.2022
For our current project, we are invited five
makers
of Ukrainian heritage to create work reflecting on their experience of the ongoing war in Ukraine, made with a child in mind. To instigate and facilitate this process, it is essential that we create a safe space for the makers to bring their lived experience into work all while the war continues to be their present day. To do so, we defined a structure for collaboration and curatorial and editorial support that includes workshop sessions with the group and artist hosted studio-based reflection meetings.
On November 20th, 2022 we invited Katerina Motyleva, Kateryna Snizhko, Lia Dostlieva, Ola Lanko, and Sophia Bulgakova to meet us at
Enter, Enter, a space for books
in Amsterdam, to kick off the creative process in our first collective session.
Ayumi Higuchi introduced us to the space and her practice. We used the rest of the day to get to know each other, page through a collection of historical and contemporaty artist and children's books and dive into the various approaches, visual elements that appealed to each of us. We spoke about the concept of a "child" that each of the artists could be addressing their work to.
Thank you
Enter, Enter, a space for books
for hosting us and
Amsterdams Fonds voor de Kunst
for supporting this part of our project.